EUF Open Space
Postponed to a future date | University of Split, Croatia
EUF Open Space
6th Edition
The Open Space is a 3-day project incubation event that gives participants the opportunity to find out more about EU funding opportunities, discuss their own project ideas with colleagues from across Europe, and plan the next steps for submitting and managing project applications.
The lively and creative environment also offers multiple networking and best-practice sharing opportunities among higher education staff working on EU projects.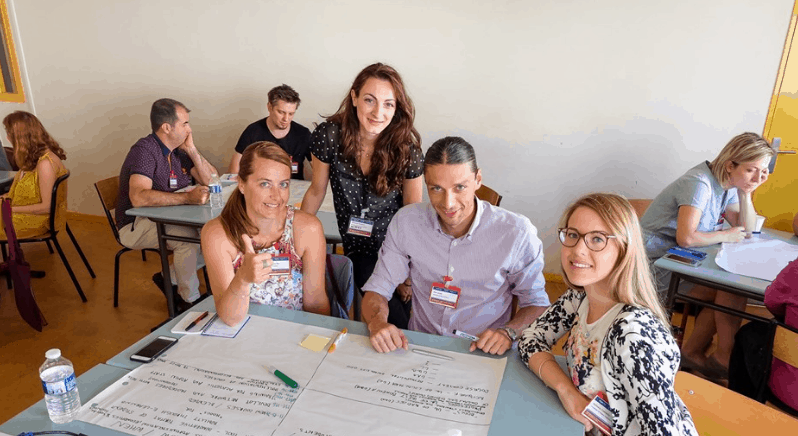 Take the first step to your Erasmus+ project.
Meet your European colleagues at the 6th Edition of the EUF Open Space!
Morning
Welcome and introduction to the EUF Open Space

What is the institutional impact of Erasmus projects on universities?

Project Idea Corner – create and present your own project idea (Digitalisation, Quality mobility, Social inclusion…)

How does the Erasmus programme contribute to the modernisation of the European Higher Education Area and what to expect for the new Erasmus programme 2021-2027?
Afternoon
How to develop an EU project proposal — Theory & Idea generation
Social dinner on campus Arts Gallery
Morning
Writing a project proposal — a practical approach

Key criteria for a successful application – an insight by Erasmus project evaluators
Afternoon
Parallel sessions in two rounds:
Online cooperation for preparing project proposals

Impact – how to successfully define qualitative and quantitative indicators

Logical Framework Matrix – a strategic approach to developing your project idea

Dissemination & Sustainability – how to make sure your project will reach the right target and survive after the project funding support
Guided tour of old town
Morning
Overview of Erasmus project opportunities – Strategic Partnerships, Knowledge Alliances, Capacity Building, European Universities (subject to change depending on the next Erasmus programme framework)

Feedback and wrap up
Farewell!
Venue & Host
The EUF Open Space will take place in the city of Split by the Adriatic shore. The event will be hosted by the University of Split, at the Faculty of Electrical Engineering, Mechanical Engineering and Naval Architecture, Ruđera Boškovića 32, 21000 Split, Croatia.
About Split
Split is the 2nd largest city in Croatia and the largest city on the Adriatic coast with over 200,000 inhabitants. There's a lot to enjoy in sunny Split: the fantastic views, the restaurants and the beaches of the Dalmatian coast. Don't miss the Roman old town and the Diocletian's Palace! More information here.
About the University of Split
The University of Split was officially established on 15th of June 1974. As a predominant scientific and teaching public institution in the region, the University of Split has expanded during the course of the past 45 years to include eleven Faculties, one Academy of Arts and four University Departments. There are about 20,000 students enrolled in the University's undergraduate, graduate and post-graduate programs. The focus of the research work carried out by the University is on scientific areas with reference to disciplines characterised by natural, biomedical, cultural, historical, social, economic and other features of the region as a part of the Croatian Adriatic and the Mediterranean region as a whole.
Plane
From Split Airport
By bus
Pleso prijevoz bus ride takes about 30 to 40 minutes to reach the city. This is probably the best option as it is cheap (about 5 €) and will bring you to the center of Split (Main bus station/Autobusni kolodvor).
By taxi
Available at the airport or by phone (+385 21 1777) and it takes from 25 to 40 minutes to reach the city centre and it costs about 300 HRK (approx 45 €). Make sure you ask for the price beforehand and a receipt.
Uber
Uber is available in Croatia. Use your phone's app!
Local transportation
You can reach the event's venue by taxi or by bus.
One way ticket can be bought on the bus and in newspaper kiosks and costs 11 HRK (1.50 €). Your ticket is valid for 45 minutes as long as you travel in the same direction.
If you are staying in or near the old town, go to the bus station in front of Croatian National Theater and take bus No. 11 or 18. Hop off on the 5th bus station. It is the station right after the walking bridge.
Accommodation suggestions
The tourist season in Split starts in April, please make sure to book your accommodation in advance! More options are available on Booking.com or Airbnb.
Registration
Due to the COVID-19, we regret to inform that the 6th edition of the EUF Open Space was postponed to 2021. We will update this webpage as soon as more information is available.
Included
All training & project incubation sessions (Days 1-3)
All lunches and coffee breaks (Day 1-3)
1 Guided tour (Day 2)
1 Social Dinner (Day 1)
Erasmus+ Staff Mobility
Higher Education staff can use Erasmus+ staff mobility funding to participate in the EUF Open Space 2020. Please contact the responsible person in your institution to find out more about your eligibility. We are able to provide you with an invitation letter if required.
The Organiser
The European University Foundation (EUF) is a network of universities established in 25 countries. It stands for diversity and social fairness in Higher Education and aims to accelerate the modernisation of the European Higher Education Area. The network deploys intensive cooperation and policy experimentation under five key pillars:
Digital Higher Education both for governance and provision of education
Entrepreneurship and employability skills of graduates
Policy innovation at national and European level
Active citizenship of students and
Quality mobility for all
Participants recommend this event
Participants build useful contacts
Participants would like to attend similar events organised by the EUF
The EUF team is available, enthusiatic and nice, the networking opportunity is rich, as well as the professional and personal experience with lots of tips concerning the process of project application.
It is one of the most interesting and useful workshops on internationalisation I've ever attended.
The venue was wonderful, the lectures and group work were very good and the staff was very helpful. This was of a great benefit to me.
It gives a good overview of the possibilities and we also meet with potential partners. It's also a hub for ideas to put in place at our university.
Relaxed schedule, very prepared and professional trainers/speakers; interesting, stimulating and informative content.
I felt so challenged and appreciated in the same time during the event. Everything was there to improve skills, to learn more, to get update/first-hand information and to feel supported professionally, socially and personally. These circumstances are perfect to incubate brilliant ideas.
I was able to learn a lot in a very short period of time.
Very professional, planned event, very warm welcome and friendly staff during the event, highly competent speakers.